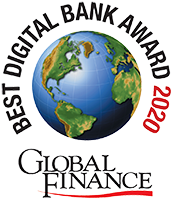 Eurobank was named Best Consumer Digital Bank in Greece for 2020 by the internationally renowned American magazine Global Finance. Eurobank wins this top distinction in digital banking by Global Finance for a 3d year, proving its consistency in providing integrated and innovative digital products and services.
This year's distinctions has a special importance given that this is a year in which the need to accelerate digital transformation in the business world has emerged due to the challenges posed by the pandemic crisis.
Global Finance distinguished Eurobank as Best Consumer Digital Bank in Greece for 2020 based on criteria such as the successful strategy in attracting customers through digital applications, developing its clientele that uses electronic/alternative networks (digital clientele), the successful design and functionality of the digital applications, the range of products and services provided.
Eurobank was also awarded for the subcategories "Best Online Product Offerings" and "Most Innovative Digital Bank", highlighting its role as the "Digital Bank that puts you first" and rewarding its comprehensive strategy to strengthen its digital presence and its contemporary digital culture.
All the distinctions underline the priority that Eurobank attaches to the provision of innovative products and services through its digital platforms aiming to facilitate its customers' daily life and improve the overall experience they have through their cooperation with the Bank, in a totally secure transaction environment. Each year the Global Finance magazine selects the best financial institutions, worldwide, and its awards form a reliable indicator for best practices in the industry._