To avoid exposing our elderly and vulnerable fellow citizens to COVID-19, we recommend that they stay away from ATMs and branches. Let's all make an effort, so they can be served online, from the safety of their homes.
Find out how to help your parents and grandparents, as well elderly or vulnerable people close to you, get served:
e-Banking credentials at home
Help elderly people close to you follow the step-by-step guide to get e-Banking credentials online:
They just need to have registered their mobile number and have an active debit or credit card in their name.
It takes 3 simple steps to complete the process:
1. Identification with card
They fill in the number and PIN of an active Eurobank debit or credit card issued in their name. This helps identify them as a client.
2. Verification with message
They receive an SMS or Viber message with a One-Time Password (OTP) on the mobile number they have registered with Eurobank. They fill this in to get their credentials issued.
3. Instant issuing of credentials
The login credentials are issued on the spot. They choose a Username and Password to log in to e-Banking from their computer.
Transactions in a safe electronic environment
When carrying out transactions through e-Banking and the Eurobank Mobile App, the data are transferred encrypted using a TLS protocol with a 256-bit key.
Our databases are protected with advanced Firewall and online authentication technology.
If you need help to get login credentials issued, call on the dedicated hotline for accessing Eurobank's digital channels:
+302109555710, Monday to Friday, 09:00-17:00
Step-by-step payments through e-Banking
It is most important for our elderly and vulnerable fellow citizens to stay away from ATMs and branches. Help them with their transactions or show them how they can carry out the most popular transactions through e-Banking, from the safety of their home.
For example, they can learn how to pay electricity, water, phone and internet bills, debts to the State, etc.:
Home > New transaction > Transaction categories > Popular payments
They can follow our instructions step-by-step:
DEH bill payment example
1. Log in to your e-Banking using your Username and Password: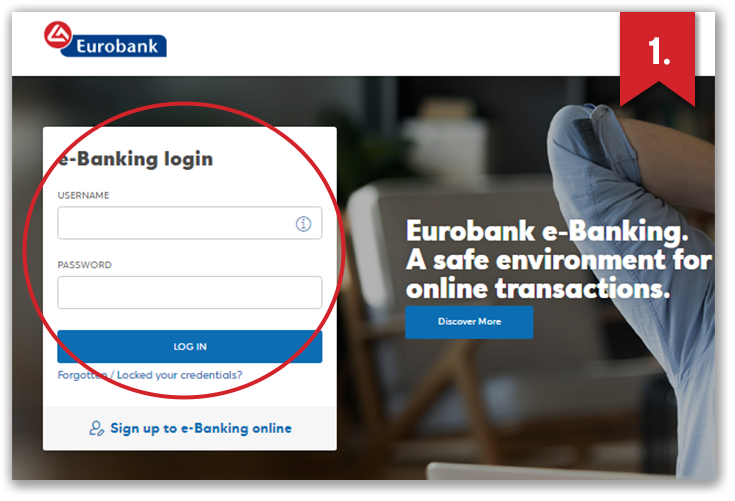 2. From the home screen, click on the red button: NEW TRANSACTION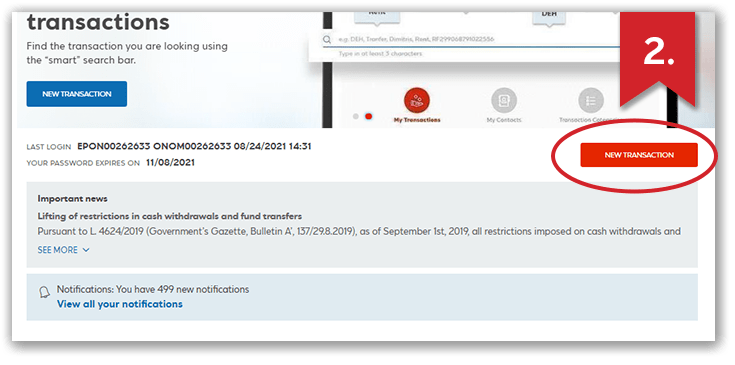 3. On the next screen, click on: Transaction categories

4. From the listed transaction categories, choose: Bills
5. From the listed types of bills, choose: Energy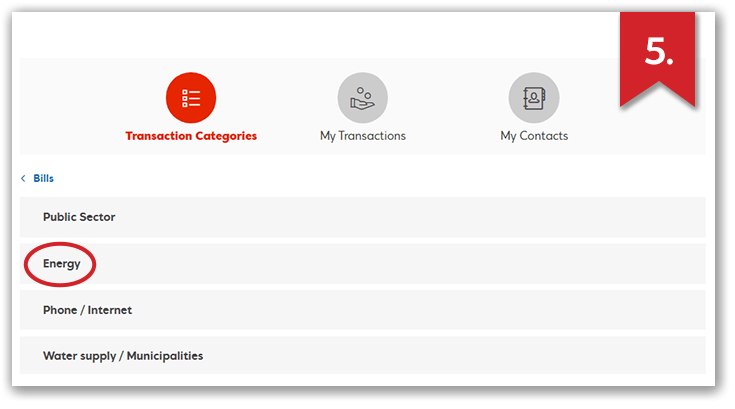 6. From the listed companies, find DEH and click on the blue button: TRANSACTION

7. Fill in the payment details and click on: CONTINUE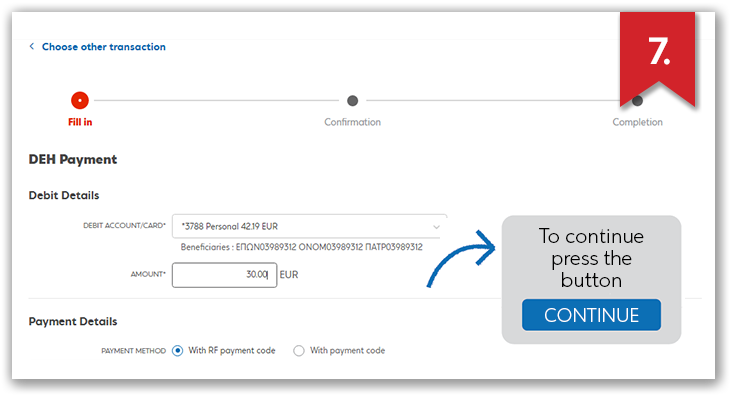 8. Now you can see your debit and payment details. To continue, click on: CONFIRM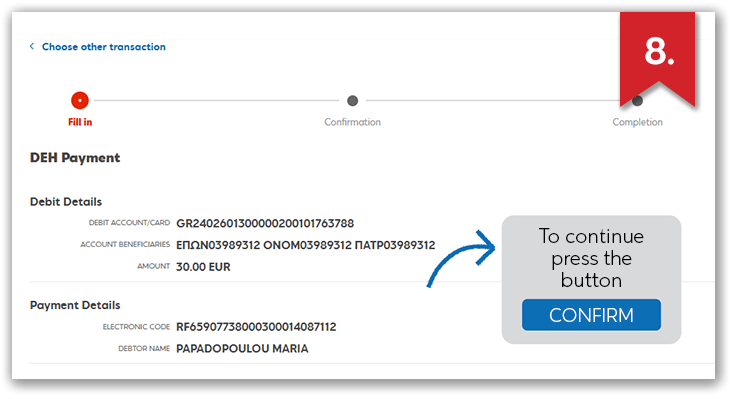 9. For your own safety, you are authenticated with strong customer authentication, by filling in the 6-digit code you receive on your mobile. Then confirm the transactions details.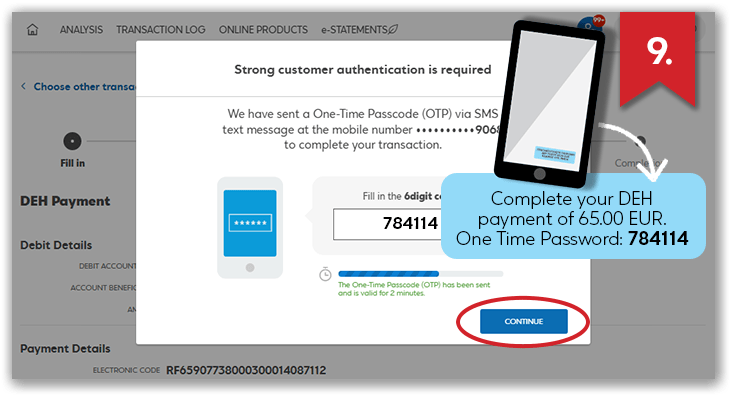 10. You can see whether the transaction was carried out successfully: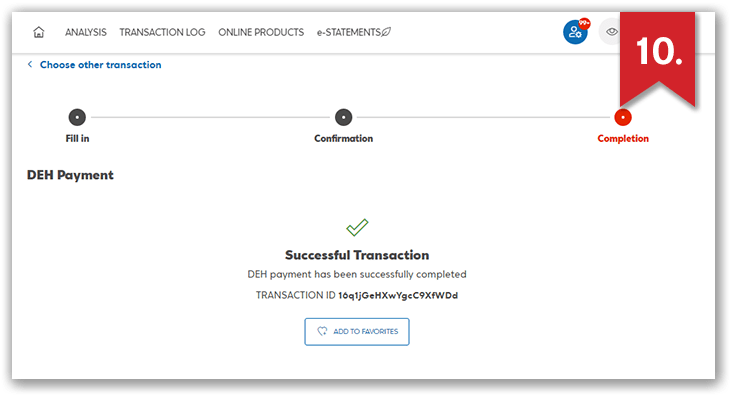 Tutorial videos
To get familiar with the Eurobank e-Banking environment and find other ways to carry out transactions, they can watch the videos:
Fast transactions using Eurobank e-Banking
Virtual tour of Eurobank e-Banking
Login through the Eurobank Mobile App
If the elderly people you are helping own a smartphone, they can log in to the Eurobank Mobile App from their mobile using their e-Banking credentials.
They can download the Eurobank Mobile App on their mobile free of charge: