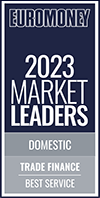 Eurobank has been awarded as the Best Service Domestic Bank in Greece for 2023, for the provision of transaction banking services, in the context of the annual Trade Finance Survey 2023, conducted by the prestigious international magazine Euromoney.
This award recognizes Eurobank's long-standing commitment to supporting Greek import and export companies through a contemporary and holistic framework of innovative services that respond to the market needs. It also validates the Bank's successful business strategy amid a demanding and challenging environment in international trade due to successive global crises.
The high degree of trust of the business world in the strategy and service offered by Eurobank is also evident in the Trade Finance Survey 2023, which reflects the views of Greek-based companies that evaluated the international trade related services offered by Eurobank. The assessment focused on issues relating to the quality and range of products and services, the level of customer service and the degree of innovation and adaptability of the solutions provided. Eurobank offers a wide range of services in International Trade including, among others, issuance and confirmation of Letters of Credit, issuance of Letters of Guarantee, as well as financing products tailored to the needs of importers and exporters.
Eurobank's firm commitment to providing innovative services to its corporate and retail clients, with the expertise and professionalism of its staff, has been recognized over the years by internationally renowned institutions. It is worth noting that in 2022 the Bank was distinguished as the Best Bank in Greece in the context of Euromoney's Awards for Excellence 2022, considering the Bank's overall financial performance, its strategy, as well as the initiatives Eurobank has undertaken for sustainable development.
More on Eurobank's awards here._