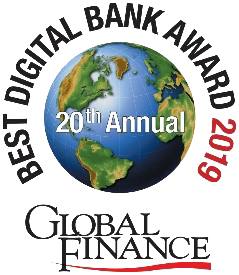 Eurobank has been named the "Most Innovative Digital Bank in Western Europe" and the "Best Consumer Digital Bank in Greece" for 2019 by the internationally renowned Global Finance Magazine.
Global Finance distinguished Eurobank for its new services e-Banking & mobile app, that were recently released to the public, incorporating a series of innovations such as, instant online access without the need for physical presence at the branch (digital onboarding), smart financial management tools with over 400 smart transactions along with mechanisms for securing electronic transactions using innovations such as biometric identification.
The above mentioned awards confirm the strategy followed by Eurobank. During the last three years the Bank has been implementing its digital transformation, with the process being in full development having already put innovative online services in place to better serve its customers and further simplify their everyday life.
Each year, Global Finance Magazine selects the best financial institutions, worldwide, and its awards form a reliable tool for recognizing banking excellence. The criteria for these awards relate to the organizations' overall strategy for attracting and serving digital customers, the development of digital clients, the range of available online services and the countable benefits of delivering digital initiatives to the customers.