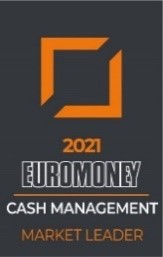 Eurobank won the first place in the provision of Payments & Cash Management (PCM) services to corporate and shipping clients in Greece for 2021, by the acknowledged international magazine Euromoney. The Bank was awarded as "Market Leader" for the fifth (5th) consecutive year & as "Best Service" for the ninth (9th) time.
The distinctions in the context of Euromoney's annual survey, contacted through a questionnaire sent to more than 27,000 company executives in Greece and abroad, is a recognition of Eurobank's commitment to providing innovative digital services and simplifying day – to - day business transaction banking needs.
Greek and multinational companies participated in the survey, evaluating services provided such as effective cash management, completeness of services, customer support and digital services.
The new distinctions for the Bank, through the Cash Management Survey of Euromoney, one of the most valid international publications in the banking sector, constitute for Eurobank an acknowledgement of its strategy and the correctness of its client centric operating model, constantly aiming at the provision of best in class services._